Prime Day deals on boring, everyday computer stuff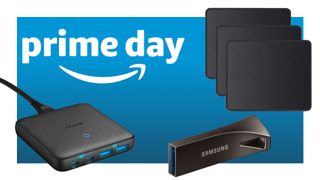 (Image credit: Anker, Samsung)

We've spent the past two days collecting all the most exciting Prime Day deals for PC gaming, with everything from laptops to SSDs. However, there's plenty more stuff that might improve your PC gaming (or home office) setup that just isn't that exciting. We get it, a new mouse pad doesn't quite excite the imagination like a shiny new gaming laptop, but that doesn't make it any less important. Why not get it on sale?
This roundup is all about highlighting the best Prime Day deals that are pretty boring, but might still come in handy.
Corbin is a tech journalist and software developer, based in North Carolina. He plays a lot of Planet Coaster and Fallout.