Damn it. The PC Gamer test rig could've been $350 cheaper with these Prime Day deals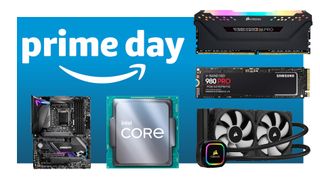 With all the Amazon Prime Day PC gaming deals going down right now the PC Gamer test rig would over $350 cheaper today. Old faithful we call it—though it was only pieced together last year as Intel's Comet Lake platform was released—but the main PC Gamer test rig is a genuine workhorse.
It's been the rig that's helped us run the rule over the finest graphics card generation that has ever been released. Just a pity that it seems like few people are destined to ever get a look at those fine-ass GPUs. From the wee GeForce RTX 3060 all the way up to the GeForce RTX 3090, and from the Radeon RX 6700 XT to the Radeon RX 6900 XT, this system has helped us bench the living hell out of those cards.
And we've grown very fond of it.
Despite the fact that components aren't really the purview of Amazon Prime Day there are still a host of deals on many of the techie bits and pieces that we've come to rely on. We can vouch for their reliability and performance… and of course their RGB LEDs. 
And if you wanted to go for the full test rig package you could grab a DimasTech V2 Mini test bench. Ours is all pretty, and shiny, and blue I've even managed to restrain Jacob from covering it in manufacturers' stickers. You should've seen what our last test bench looked like by the end. 
Anyways, there's something so refreshing about having an open air gaming PC, though I still can't help but want to jam a finger into every fan that's spinning. They are so hypnotic…
Dave has been gaming since the days of Zaxxon and Lady Bug on the Colecovision, and code books for the Commodore Vic 20 (Death Race 2000!). He built his first gaming PC at the tender age of 16, and finally finished bug-fixing the Cyrix-based system around a year later. When he dropped it out of the window. He first started writing for Official PlayStation Magazine and Xbox World many decades ago, then moved onto PC Format full-time, then PC Gamer, TechRadar, and T3 among others. Now he's back, writing about the nightmarish graphics card market, CPUs with more cores than sense, gaming laptops hotter than the sun, and SSDs more capacious than a Cybertruck.