Samsung's fast 24-inch 1080p FreeSync monitor will only set you back $130 today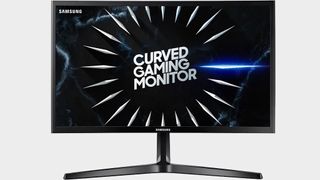 Get a high quality gaming monitor at a low price with this deal.
(Image credit: Samsung)

Straight to the point, the discounted price after applying a promo code (EMCEXET49) on this Samsung 24-inch gaming monitor is so good, I'm not sure it will be any lower when Black Friday comes into view. It's only $129.99 at Newegg today when all is said and done.
Newegg has it marked down from $199.99 to $169.99, which in and of itself is a fair price for this monitor (I wrote about it a couple of months ago when it was on sale for $159.99). However, the aforementioned coupon code knocks an additional $40 off, making this a stellar bargain.
Fast and smooth gaming
Samsung 24-Inch Curved Monitor | 1080p | 144Hz | FreeSync | $199.99 $129.99 at Newegg (save $70)

This is the lowest price we've ever seen for this monitor, and it offers one of the best deals among 24-inch displays. Remember to use coupon code EMCEXET49 at checkout for the full discount.View Deal
Samsung built this display around a curved (1800R) VA panel with a 1920×1080 resolution. It offers up a fast 144Hz refresh rate to allow your GPU to stretch its legs, and it supports AMD's FreeSync technology to smooth things out and eliminate screen tears.
Other specs include a 4ms response time (gray to gray), 250 nits peak brightness, 3,000:1 contrast ratio, and a low input lag mode.
Part of the reason for the attractive pricing is that Samsung focused most of its attention to the panel itself. There's no built-in USB hub or integrated speakers, and limited ergonomics (you can adjust the tilt, but that's it).
If you don't need those amenities and are mainly interested in a fast display at a great price, this is it.
Paul has been playing PC games and raking his knuckles on computer hardware since the Commodore 64. He does not have any tattoos, but thinks it would be cool to get one that reads LOAD"*",8,1. In his off time, he rides motorcycles and wrestles alligators (only one of those is true).