If it's a lightweight mouse you're after, Roccat's Burst Pro is just $45 today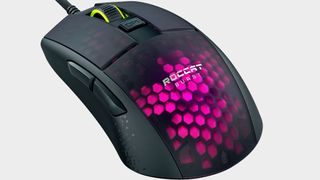 Save $15 on a gaming mouse that weighs just 68 grams.
(Image credit: Roccat)

A lot of lightweight gaming mice owe their featherweight design to a bunch of holes being carved out of the casing. Roccat's Burst Pro is no exception, though I dig the look of the semi-translucent cover that prevents the holes from being completely exposed. I also like the sale price that's in effect right now—you can buy the Burst Pro at Amazon for $44.99.
This normally goes for $59.95, so you're saving 25% off the list price. It's not a life-changing discount, but it does make the Burst Pro one of the more affordable gaming mice on the market.
A light and nimble gaming mouse
Roccat Burst Pro Lightweight Mouse | 68g | 16,000 DPI | $59.95 $44.99 at Amazon (save $14.96)

Roccat's Burst Pro is a lightweight gaming mouse with an attractive translucent cover, a bunch of programmable buttons, and a 16,000 DPI.
View Deal
The Burst Pro weighs 68 grams. That's just 2 grams more than the SteelSeries Aerox 3 Wireless, our top pick for the best light gaming mouse, which now costs more than twice as much. The Burst Pro is also comparable in weight to a few other of our top picks, like the Mountain Makalu 67 (67 grams), Razer Viper 8KHz (71 grams), and the Glorious Model O (67 grams).
Powering this rodent is Roccat's Owl-Eye optical sensor with a 16,000 DPI, 400 IPS tracking speed, and 50G acceleration. It also features eight programmable buttons (including three scroll wheel functions), heat-treated PTFE feet for smoother gliding, and RGB lighting.
We've not reviewed this model, but our friends at Tom's Hardware did. While not without a few flaws, they ultimately concluded "the Burst Pro gets a lot of things right."
Paul has been playing PC games and raking his knuckles on computer hardware since the Commodore 64. He does not have any tattoos, but thinks it would be cool to get one that reads LOAD"*",8,1. In his off time, he rides motorcycles and wrestles alligators (only one of those is true).