Best capture cards for PC gaming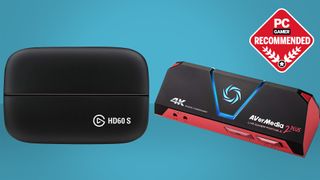 Show off your greatest moments with the best capture cards.
(Image credit: Elgato, Avermedia)

The best capture card can be a dangerous weapon for a high-end PC streamer's arsenal, as well as for console gamers. A fantastic capture device will lessen the load on your main gaming PC, so you can bash out great framerates, while still allowing for high-quality streaming. Whether you're a seasoned Twitch or YouTube streamer, or just starting out, a capture card will let you focus on capturing the best footage of your gameplay—so make sure you pick the right one for the job.
Are you recording footage to edit later, or focusing on streaming? Some cards are better for one than the other. And video resolution will vary from card-to-card, particularly for streaming. 
We recommend most people to focus on a 1080p target resolution with any potential capture card purchase. There are good 4K capture cards out there, but they're also expensive and the storage needs can be harsh. Plus the bandwidth requirements often mean 4K is not worth the hassle for streamers. Most capture cards also come with some kind of software. While most streamers use something like OBS or XSplit, video work is nothing if not unpredictable, so it doesn't hurt to have good software as a backup.
In general, our selections cover a few scenarios, but we've leaned towards all-around solutions. You never know what kind of content you're going to want to make in the future, so these cards will hopefully prepare you for anything. If you're picking up a capture card as part of a bigger build for a streaming setup, take a look at our picks for the best webcams and the best microphones for streaming too.
Image 1 of 4
Image 2 of 4
Image 3 of 4
Image 4 of 4
1. Elgato Game Capture HD60 S
The best capture card for streaming and recording
Resolution: 1080p | Frame rate: 60fps | Interface: USB 3.0
Excellent capture quality
Good price
This is the perfect card for anyone wanting to take their gameplay to streaming platforms with as little hassle as possible. Elgato is an expert in its field, and the HD60 S proves it. Reasonably priced and simple to use, it's probably the best place to start if you're new to streaming and your gaming PC can't manage it solo. Crisp 1080p recordings at 60fps are a feather in its cap, while USB 3.0 connectivity is a happy bonus. 
Built-in software to get you up and running seals the deal. The only downside would be the card's somewhat limited editing suite—it's not much good for anything beyond trimming video. However, it does have 'Flashback Recording' to help you retroactively capture even if you forgot to hit 'record.'
Image 1 of 2
Image 2 of 2
Best two source capture card
Resolution: 1080p | Frame rate: 60fps | Interface: PCIe 2.0, HDMI 2.0, HDMI 1.4
Can stream 2 HMDI sources at once
Easy set up and use 
HD only 
Only does passthrough on 1 HDMI source
Even though streaming these days is easier than ever, it doesn't mean there aren't ways to make things even easier for your stream. The AVerMedia Live Gamer Duo is a no-fuss internal capture card for more complicated streams and plays well with most rigs, so long as you have the room. 
This $250 Live Game Duo is giving you two capture cards for the price of one. It is a great setup for streaming with multiple HDMI inputs like a gaming console, a fancy DSLR camera, or a second PC. The only real downside is if you have plans aspirations for 4K recording or streaming, you'll have to look lower on the list. If you're looking to stream out at 1080p/60fps, mostly hassle-free, though, you won't go wrong with the Live Game Duo. 
Read the full AVermedia Live Gamer Duo review here.
Image 1 of 4
Image 2 of 4
Image 3 of 4
Image 4 of 4
3. AverMedia Live Gamer Portable 2 Plus
A brilliant, user friendly pick
Resolution: 1080p | Frame rate: 60fps | Interface: USB 3.0
Ease-of-use
Play in 4K while you record
Inconsistent frame rate
Avermedia's Live Gamer Portable 2 Plus packs smooth 60fps and 1080p recording, 4K pass-through so you can still play in ultra HD (even if it's not captured in 4K), USB 3.0, Mac compatibility, and dirty great flashing lights to tell you if you're capturing or have left HDCP on. 
Besides an attractive form-factor, it also offers intuitive software for live editing and the ability to record straight onto a Micro SD card if you'd prefer to keep your HDD clear of space-absorbing video. This capture card is flexible, mainly if you record on the go. It works straight out of the box, too—always a plus.
Image 1 of 4
Image 2 of 4
Image 3 of 4
Image 4 of 4
Best Capture Card for recording in 4K60 and HDR
Resolution: 4K, HDR10 | Frame rate: 60fps | Interface: USB 3.0, SD Card
4K60 HDR10 Capture
Onboard HEVC encoding
Standalone SD Card Recording
Expensive
If you're looking to capture the best footage without compromising any graphical quality, the Elgato Game Capture 4K60 S+ does just that. Thanks to onboard HEVC encoding, it lightens the CPU load and keeps video files at manageable sizes, which you'll need when recording 4K 60fps footage with HDR. More importantly, the 4K60 S+ automatically adjusts recording resolution, bit rate, and file format on whatever device is plugged in, which means you won't have to spend too much time tweaking settings.
The most significant and requested update to Elgato's capture cards is the ability to capture straight to an SD card (not included). You can capture footage without needing to plug it into another PC—plug in the console or PC and hit record. Everything records onto the SD card for later editing. 
The Elgato Game Capture 4K60 S+ is an excellent tool for content creators who travel to trade shows or off-site game demos and need an easy way to record gameplay, even if the $400 price tag might be a little tough to swallow. If you're looking to stream at 1080p and don't care about 4K footage, you've got way cheaper options that work as well on this list.
Read the full Elgato Game Capture 4K60 S+ review.
Image 1 of 4
Image 2 of 4
Image 3 of 4
Image 4 of 4
5. Elgato Game Capture HD60 Pro
A great card for pros, although it won't do 4K
Resolution: 1080p | Frame rate: 60fps | Interface: PCIe x1, HDMI
Advanced encoder
Bitrate of 60Mbps
If you want to take your recordings to the next level, Elgato's internal HD60 Pro card is a good shout. Indeed, Elgato's website claims this card features "an advanced, onboard H.264 encoder that enables you to record unlimited footage in superb 1080p [60fps] quality, at a bitrate up to 60Mbps." Not too shabby. 
It can also stream at 1080p when using Game Capture HD, OBS Studio, and Xsplit. Petite, classy form-factor is in the HD60 Pro's favor as well. It means you'll have to install it on a desktop PC, so using a laptop to control your capture card is out, but this is still a decent capture card for the pros.
Best gaming PCs | Best gaming laptops | Best gaming keyboard
Best gaming mouse | Best gaming chairs | Best graphics cards
Image 1 of 4
Image 2 of 4
Image 3 of 4
Image 4 of 4
6. Razer Ripsaw HD
The illustrious 1080p-4K middleground option
Resolution: 1080p capture; 4K passthrough | Frame rate: 60fps | Interface: USB 3.0
4K 60fps passthrough
Built-in audio mixing
The Razer Ripsaw HD's main downside is that it doesn't have proprietary software, so you're forced to use OBS or subscribe to XSplit. This isn't too much of a problem, as many people use those very-capable applications anyway. And because it doesn't have its software, the Ripsaw HD also supports built-in, easy-to-use audio mixing with the help of its hardwired, "hassle-free" mic and headphone jacks. For the price, it also has the best picture quality. 
Although it's still limited to 1080p streaming and capture, the Ripsaw HD lets you experience your favorite games first-hand—while streaming or capturing—at 4K 60fps. Appealing to PC gamers who want to share their gameplay online but don't want to miss out on the top-notch visual fidelity ushered in by their expensive and powerful graphics cards. 
Image 1 of 4
Image 2 of 4
Image 3 of 4
Image 4 of 4
7. Elgato Game Capture 4K60 Pro
The best 4K capture card for serious streaming aficionados
Resolution: 4K | Frame rate: 60fps | Interface: PCIe x4
4K capture with 60fps
Video encoding
1080p @240hz / 1440p @144hz passthrough
Pro-users, who want nothing but the best, need to look no further than Elgato's 4K60 Pro. It may need a high-end PC to get off the ground, but this is an excellent piece of kit for those who are intent on capturing gameplay at the highest resolution and frame rate possible.
It's worth making sure you've got enough storage space for all those videos, too, because they can get huge very quickly. And if you want to go big, Sabrent's 4TB RocketQ or even the ultra-expensive Sabrent 8TB SSD will be your dream tickets to storage nirvana. The 4K60 Pro's encoder can reduce file size and save you much-needed memory real-estate, but they can still be chunky in real terms. 
Oh, and one more thing: the best way to play while using this card is with a lag-free HDMI passthrough that shoots the feed to a 4K screen or second monitor.
Image 1 of 4
Image 2 of 4
Image 3 of 4
Image 4 of 4
8. EVGA XR1
Best capture card with built-in audio mixer
Resolution: 1080p (up to 4K/60frps HDR passthrough) | Frame rate: 60fps | Interface: USB-C
Customizable ARGB LEDs
Built-in Mixer
4K @ 120fps HDR Pass-Through
EVGA is a known name for video cards and other PC gaming hardware, so you can imagine our excitement when they announced the XR1, their first external capture device for streamers. The flashy OBS certified capture has a built-in audio mixer that'll your levels using these clever ARGB LEDs on the unit itself. 
The XR1 records and streams at 1080p/60fps and supports Advanced Pass-Through of 1440p/120fps and 4K/60fps signals. This means the XR1 will take that signal and spit it out at 1080p/60fps for your stream without needing to change any of your display settings while you game. The capture does a good job though we did notice the colors being a bit washed out in that process; nothing a little tweaking in OBS couldn't handle, though. 
Jorge Jimenez is a Hardware Writer from the enchanted lands of New Jersey. When he's not filling the office with the smell of Pop-Tarts, you can find Jorge streaming bad games with his dog or binge-watching an irresponsible amount of superhero TV shows.