The best microphone for streaming, gaming, and podcasting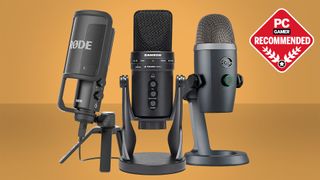 Sound your best with the best microphones for streaming.
(Image credit: Rode, Samson, Blue)

The best microphone for streaming and gaming may differ depending on your use and environment, but quality is no less key for any use. The microphones attached to the best gaming headsets will often suffice for gaming, but if you want crystal clear vocals for streaming or podcasting then operating the best standalone microphone is a must.
USB microphones have become more prevalent in recent years, so there are many choices out there. XLR mics still offer the best flexibility, however, they tend to come with a reasonably hefty price tag and are more difficult to set-up than those that use USB (most likely requiring some external interface). 
Have a think about how and where you're going to be using your microphone before you purchase. And once you're all set with a solid microphone, you might want to check out our guide to the best webcams, should you be looking to round out your streaming set-up. 
Also there's been a rise in budget microphones under $100, the sound quality of which can rival some of the more expensive mics on the market. So give those a look, too.
Best microphone for streaming
Image 1 of 5
Image 2 of 5
Image 3 of 5
Image 4 of 5
Image 5 of 5
1. Blue Yeti X
The best microphone for streaming and podcasting
Specs: Power: 5V | Polar patterns: Cardioid, Bidirectional, Omnidirectional, Stereo | Connectivity: USB | Frequency response: 20Hz-20,000Hz | Features: Blue Vo!ce, zero-latency monitoring, Smart knob controls
Best sounding Blue microphone
LED front panel
Blue Vo!ce software offers great flexiblity
There's a reason Blue microphones tend to show up in a lot of recommended product guides. The Blue Yeti X is a hybrid model of the Nano and the original Yeti, an amalgam of the better bits of both. 
The sturdy microphone now has an LED-lit front panel that usefully monitors your volume levels at a glance, and the sound quality remains top-notch. It's clear why this is the mic of choice of many professional podcasters and streamers. 
If you're choosing between this and the original Yeti, the Yeti X has four condenser mic capsules instead of the original's three. The Yeti X also offers a broader array of customization options, and on the fly adjustments, which you can switch to your liking with the new knob. 
The biggest change comes in the form of Yeti X's Blue Voice software via G Hub. Here, you can add preset (or customize your own) filters to your voice to make yourself sound like a chatty AM host or something crisper and modern-sounding. 
It's even got a toggle for noise reduction in case the sound of your air-conditioner regularly plagues your recordings. A useful feature since the Yeti X is very sensitive and picks up every nearby clack-click or distant radiator sound.
Blue recently released a World of Warcraft Edition Yeti X. It offers the same features as the Yeti X, except it's rocking a nice black with gold trim design along with some neat fantasy glyphs all over the mic. More importantly, it lets you choose to voice to various Warcraft races like gnomes, imps, and of course, Orcs. 
All in all, the Yeti X is one of the best non-XLR microphone you can pick up for under $200.
Image 1 of 4
Image 2 of 4
Image 3 of 4
Image 4 of 4
Best microphone for streamers
Specs: Power: 5V | Polar patterns: Cardioid | Connectivity: USB | Frequency response: 70Hz-20,000Hz | Features: Capacitive Mute, Volume control, Gain Control
Clear audio
Digital mixer
Simple mounting
The Elgato's debut microphone is for streamers who need simple, quick, and quality audio on their streams. The Wave 3 is a feature-packed 96kHz microphone that sounds incredible that is easy to use, and compatible with most desk boom arms.
The digital audio mixer allows for up to 8 channels for game audio and devices that can be imported into OBS and Xsplit, giving you more control over your stream's audio without needing to be a sound engineer. The capacitive mute button is a nice touch with Clipguard tech that automatically adjusts your levels from ever hitting red. 
The single cardioid polar pattern limits the Wave 3's versatility, but if you're looking for the best microphone for their next stream, Elgato has got the mic for you.
Read our full Elgato Wave 3 review.
The best budget microphone
Polar patterns: Unidirectional Cardioid Polar Pattern | Connectivity: USB | Frequency response: 20Hz-20,000Hz | Features: Tap-to-mute sensor
Sounds nearly identical to QuadCast Mic
Great price
Portable design
The HyperX SoloCast is the best of a slew of new budget-oriented microphones. These new mics deliver their more expensive siblings' audio performance, prioritizing the sound over extensive feature sets for a frankly fantastic price. 
With the JLab Audio Talk GO and Razer Seiren Mini all offering great sound, the HyperX SoloCast about stands above the others because it's essentially giving us the audio chops of its pricier QuadCast S compatriot. That's a fantastic microphone in its own right, and we can bear losing the full list of features and range of polar patterns when we want an easy plug-and-play mic.
I mean, you lose the sexy RGB lighting of the QuadCast, which is missed, but they sound almost identical. And if you're just after higher-quality audio, and don't want to start messing around with gain settings mid-stream, then the SoloCast could be all the mic you need.
Read our full HyperX SoloCast review.
Image 1 of 4
Image 2 of 4
Image 3 of 4
Image 4 of 4
The best microphone for gaming
Specs: Power: 5V | Polar patterns: Cardioid, Bidirectional, Omnidirectional, Stereo | Connectivity: USB | Frequency response: 20Hz-20,000Hz | Features: Built-in Shockmount
Easy to set use
Touch-sensitive mute button
Built-in Shockmount
Cool RGB lighting
The gamer-centric HyperX Quadcast S is an excellent value microphone for the gamer or streamer looking for an easy-to-use, clear sounding mic. While it doesn't quite match up to the Yeti X in terms of sound quality, the Quadcast S makes up for it in design and feature-set.
The built-in shock mount alone is reason enough to pick up this HyperX mic. Decent shock mounts usually go for around $50, which helps prevent the microphone from picking up any accidental bumps and thuds during streaming. 
Another nice feature is the touch-sensitive mute button at the top of the microphone. Often, mute buttons and switches make a loud click when recording a thoughtful solution for a common issue. The Quantcast S hits the sweet spot of price, sound, and features if you're looking to add something to your live stream.
The biggest difference between the Quadcast S  and last year's Quadcast is that it offers dynamic RGB lighting, so it looks like you're speaking into a lava lamp. If you're not an RGB fan, you can save yourself $20 and pick up Quadcast since they are the same microphone sans the light show. 
Read our full HyperX Quadcast S review.
Image 1 of 3
Image 2 of 3
Image 3 of 3
The best premium microphone for performers
Specs: Power: 5V | Polar patterns: Cardioid | Connectivity: USB | Frequency response: 20Hz-20kHz | Features: Side-address, on-mic mix control, pop shield, tripod, zero-latency stereo headphone monitoring
Fantastic audio
Free pop filter
Rode's NT USB microphone screams 'professional'. Mimicking the look of studio microphones while maintaining a reasonable cost, the NT is the right choice for users who want to further their hobbies. Its sound quality goes above and beyond the competition (Blue's Yeti, for instance), and the inclusion of a free pop shield is much appreciated. 
It may only have one polar pattern—cardioid—and a few odd design choices like smooth dials, but it remains a brilliant option for those who want to specialize in voiceover and streaming. As mentioned in our review, "NT-USB claims to offer 'studio-quality sound' without studio-quality prices… and the developers might just have managed it." 
Read our full Rode NT USB review.
Image 1 of 3
Image 2 of 3
Image 3 of 3
6. Blue Yeti Nano
The best microphone for beginners
Specs: Power: 5V | Polar patterns: Cardioid, Omnidirectional | Connectivity: USB | Frequency response: 20Hz-20kHz | Features: 48kHz sample rate, zero-latency monitoring, mute & headphone volume controls
Very small and light
Easy to use
Great sound-quality
This miniature version of the classic Blue Yeti is the perfect microphone for those just starting with streaming. It has an excellent sound quality for a product under $100, while its tiny size and lightweight metal build make it easy to transport (this is at least 40 percent smaller than its larger Yeti cousin).
The difference its 24bit / 48khz recording sample rates make is noticeable, too: putting audio from the Nano and original Yeti side by side reveals that the former is superior by quite a margin. It's only got two polar patterns, cardioid and omnidirectional, but the Yeti Nano more than makes up for it with everything else.
Best gaming headset | Best gaming monitor | Best HDMI cable for gaming
Best computer speakers | Best SSD for gaming | Best CPU for gaming
Image 1 of 3
Image 2 of 3
Image 3 of 3
7. Razer Seiren X
The best compact and portable microphone
Specs: Power: 5V | Polar patterns: Super-Cardioid | Connectivity: USB | Frequency response: 20Hz-20,000Hz | Features: built-in shock mount, mute button, zero-latency 3.5 mm headphone monitoring port
Portable
Great clarity
The Razer Seiren X is 50 percent smaller than the original Seiren mic design and packs just as much audio quality. It stands on your desk like a can of Red Bull; such are its unassuming dimensions. The built-in shock mount works well to absorb unwanted spikes from desk kicks and the like, while a single volume control and mute button make up the only physical controls, helping the Seiren X retain its slick aesthetic. 
There are inevitably a couple of minor downsides. Like the Blue Yeti, we found that the Razer mic picks up a noticeable amount of ambient noise, you know, like the dreaded click-clack of your mechanical keyboard. It's not so much as to prevent it from being an available streaming mic, but we'd hoped for better noise-canceling from Razer given their trumpeted super-cardioid polar pattern. Still, the fundamental recording quality is there, as is the quality of finish.
The Sieren Emote display emoticons on the microphone via an 8-bit LED display. An excellent little addition to add some character to your stream. It's mostly a Seiren X with an exception for LED display and the interchangeable gooseneck stand. 
Best microphone FAQ
Q: What is a polar pattern and which do I need for gaming?
A: A polar pattern determines how much, and from which direction, an audio signal will be picked up by the microphone. For gaming you'll mostly want a pattern that picks up sounds directly in front of the microphone (you) and not much else from anywhere else (the environment).
These are the most common polar patterns:
Cardioid: Records in front of the microphone. Perfect for voice-over, vocals, and streaming.
Bidirectional: Captures audio in front of and behind the mic. Ideal for one-on-one interviews.
Omnidirectional: Picks up sound from every direction. Perfect for round-table interviews, but not so much for gaming or streaming.
Stereo: Perfect for ASMR recordings. YouTube 'ASMR' if you want the best example because I couldn't do it just justice.
Q: What sort of recording quality should I look for?
A: I say that audio quality isn't everything, but it's still one the most important factors in buying a decent microphone. Second, perhaps, only to a good recording space, which remains an important if often underestimated part of recording high quality audio. 
We've tested multiple microphones with different mic settings right the way up to the latest new arrivals in 2021 so that you can compare the audio quality with ease. 
Quick note: we tend to use the Cardioid polar pattern since that's how these mics are used most of the time.
Q: Do I need a microphone boom arm, shock mount, or pop filter?
A: Everyone's desk and setup requirements are different, so a mic must perform well under a handful of different scenarios. If a microphone sounds better than all the rest combined but only when it's on a suspended mic stand with a shock mount, positioned precisely six inches away from your mouth, it's not necessarily a reliable option to recommend. 
You need a mic that sounds great under any circumstance, however, you need to use it so you can play your games comfortably and still look great.
Saying that, however, there are some useful bits you might want to pick up if you're looking to clear away clutter or build a more professional setup.
A boom arm certainly helps achieve both of those things. These almost always clip onto the side of your desk and are super handy to keep your mic close to hand while off your desk, saving precious real estate. 
While a pop filter will help reduce plosives, the sound of air escaping violently from your mouth and towards the mic, from making their way over to airwaves to your listeners' unfortunate ear holes. It'll also stop your microphone from getting grubby when you're up-close and sounding sibilants.
A shock mount is perhaps the least necessary of the lot, at least for gaming. These prevent vibrations from travelling through your microphone stand or boom arm and into the microphone, which can come through as rustle, thuds, or otherwise unwanted noise. Certainly a must-have for music studios, unless you are one to slam your way through a match of Apex Legends, you might be okay without.
Q: What connector do I need? XLR or USB?
A: USB microphones are among the most prevalent for gaming and streaming fare, but you'll sometimes see the more widely used professional connection standard, XLR, make its way into high-end units.
No doubt USB is the simpler of the two, and if you're looking for plug and play ease then it's your best bet. However, that simplicity comes at a cost. It's difficult to record more than one USB microphone at a time, and monitoring and adjusting mix will all need to be done digitally. 
With the added complexity of XLR comes a great deal of flexibility that you otherwise wouldn't be able to access without even more complex digital mixing software on a USB mic. You can mix, adjust, and monitor an XLR mic before it ever touches your PC, and that's a huge boon if you're looking for a more complex setup.
The downside to XLR is that they will require additional equipment to connect to your PC. Nothing wild, just something to interface between the mic and PC, such as the many devices by that name, which often come with mixing functionality built-in.
Q: How much should I spend on a microphone?
A: And as PC gamers, we will, of course, always try to get the best we can for less. It's easy to get lost in the deep dark woods that is the world of audio, and even easier to spend a ludicrous amount of time and money chasing the best possible setup. But we don't need studio-ready equipment, so the price is an essential factor when looking at how good a particular mic is. 
You can keep working your way up the food chain, finding better and better quality at a higher and higher price, so made sure to keep it in a gamer's budget. Price is also vital in comparing what one option can offer over another. Think about your use case; if you're only using a microphone to chat with your teammates, chances are,  you don't need a microphone with half a dozen polar patterns. Don't spend money on features you don't need or use. Some $50 or less microphones are more than adequate and great for gaming.
Jorge Jimenez is a Hardware Writer from the enchanted lands of New Jersey. When he's not filling the office with the smell of Pop-Tarts, you can find Jorge streaming bad games with his dog or binge-watching an irresponsible amount of superhero TV shows.