The best UPS battery backup for PC gaming in 2021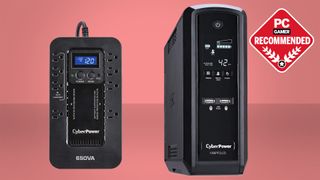 The best uninterruptible power supply will safeguard your PC from unexpected power surges.
(Image credit: CyberPower)

Having the best UPS battery backup will protect your gaming PC against unexpected power outages. Uninterruptible power supplies are an often overlooked component that is really necessary for a high-end gaming PC build. If you live somewhere that's prone to blackouts or power surges, it could be a lifesaver for your rig, and they even offer protection from minute fluctuations in outlet power. As long as it's paired with one of the best power supply units for PC, having a good UPS will ensure your PC runs on the electrical equivalent of Premium Unleaded.
Should you suffer any loss in power, the UPS has enough juice stored within its internal batteries to deliver a steady flow of power for a limited period—enough time to save your work or get to a save point before shutting down your PC safely. It also acts as a surge protector, which provides you with added peace of mind—if you're one of the lucky few that's managed to bag an Nvidia Geforce RTX 30-series, you don't want that baby getting zapped, especially as replacing it is almost impossible at this point.
The best UPS will also protect your peripherals and accessories connected to your PC. So if you've recently invested in a brand new 4K gaming monitor, you'll be able to protect that too. Primarily, the protection a UPS offers extends to anything that plugs into it, whether that's one of the best gaming routers or even your favorite game console.
The best UPS for gaming PCs
Image 1 of 3
Image 2 of 3
Image 3 of 3
1. Cyberpower CP1500PFCLCD
The best UPS for most gamers
True sine-wave UPS
900 watts sustained power delivery
Useful LCD screen for monitoring
The CyberPower CP1500PFCLCD 1500VA is one of the best UPS on the market. Several factors contribute to it being our top pick for most gamers. First, it has enough juice to handle most gaming machines on the market, even if you're running dual GPUs. Unless you've got systems with ten hard drives, quad-way GPUs, and other accessories, the CP1500PFCLCD should have enough juice to last 10-20 minutes (longer if you have a more moderate rig) if a power failure occurs.
One of the most critical features of the CP1500PFCLCD is its true sine-wave output. Most UPS backups in their price range only provide sine-wave simulated production, a stepped sine-wave that approximates what you get out of your wall outlet. Some electronics are sensitive to simulated sine-waves and will behave abnormally. At $214, having true sine-wave output is unheard of, so kudos to CyberPower for delivering a quality output.
Image 1 of 4
Image 2 of 4
Image 3 of 4
Image 4 of 4
2. Cyberpower EC650LCD
The best UPS for your network and accessories
Good power reserves for its size
LCD screen for load monitoring
ECO mode for outlet management
For smaller accessories and network equipment, the CyberPower EC650LCD is the best pick for most. Coming in at just over $70 for 390W/650VA, the EC650LCD has enough power reserves to keep the average home network alive for well over 15 minutes, which is enough time to exit your game/applications, save all your work through the network, and shut everything off gracefully during a power outage.
The EC650LCD is small enough to hide away, taking up very little desktop room for a 390W unit. One of my favorite features of the EC650LCD is its array of ECO ports. These ports can be managed and timed to turn on or off, depending on your schedule or use case. The ECO ports will also power down accessories like your speakers and displays if your PC is asleep or powered down.
Best gaming PC | Best gaming laptop| Best gaming motherboards | Best SSD for gaming | Best DDR4 RAM | Best PC cases 
Image 1 of 3
Image 2 of 3
Image 3 of 3
3. APC BE600M1
The best UPS for small accessories
Enough power for accessories and routers
Can power game consoles
Small and convenient size
The name APC is synonymous with high-quality UPS products. I use three of the company's Smart-UPS professional level units at home: two 1000VA units for my network and NAS gear and one 1500VA unit for my PC and displays.
APC's BE600M1 is excellent at providing both battery and surge protection for the devices you use most every day. That is your phone, and possibly a tablet. However, it has enough power reserves for you to plug in at least a router and a single display. If you only plan to use the BE600M1 to power a Wi-fi router, the unit will have enough juice in it to let you browse the internet in peace for several hours, even if the electricity in the rest of your house is gone. Priorities.
The best part of the BE600M1 is its size. Most UPS are large and belong on the floor, but APC encourages you to put the BE600M1 on a desk. The unit provides a single 1.5A USB port for charging a phone or tablet, so you don't have to use your device's power adapter, which is inevitably a wall wart that potentially overlaps another socket or two, so you free up sockets for other devices.
The best UPS for PC gaming FAQ
Q: What type of UPS should I buy?
A: There are two types of uninterruptible power supply to look out for when shopping around for your gaming PC: sine-wave and simulated sine-wave.
Sine-wave UPS backups deliver a smooth, consistent oscillation of AC power directly to your PSU. These are often the only type of UPS you'll find recommended for gaming PCs due to their efficiency and clean power delivery.
Q: What is a simulated sine-wave UPS?
Simulated sine-wave UPS deliver a stepped, approximated waveform using pulse-width modulation (PWM). That's the same concept used to control PC case fan RPM. These are often far less expensive than pure sine-wave UPS and can be useful for peripherals, small devices, and monitors. However, since the waveform is not always exact, these may not function as intended with PSUs that demand a stable and consistent input.